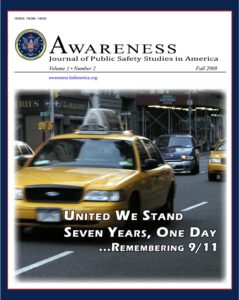 ABOUT "AWARENESS"
"Awareness" is a quarterly publication that offers information, helpful hints and ideas on how to prepare for and protect against disaster, criminals, civil liberty issues and other public safety and national security concerns.  "Awareness" is for the people and by the people.  Journalists from all walks of life submit dynamic articles for inclusion. In addition to informative articles, "Awareness" is a dynamic source for citizens to learn about organizations that offer technology, products and services to help mitigate disasters.
---
SUBSCRIBE TO "AWARENESS"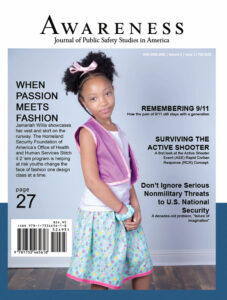 Fall 2019 Issue Available Now on Amazon.com
Featured Articles:
Remembering 9/11
Surviving the Active Shooter
When Passion Meets Fashion
Theft from Auto
Active Threat Preparation
Proceeds are used to support our public safety, energy security, and health and human services community programs. HSFA is a certified Combined Federal Campaign (CFC) charity # 95916.
** Contributions to HSFA, a tax-exempt organization under Section 501(c)(3) of the Internal Revenue Service Code, are deductible for computing income and estate taxes and are used to support life-saving public safety, energy security and health and human services programs.   
---

SUBMIT YOUR ARTICLE FOR INCLUSION
We are currently accepting articles.  If you are a journalist, please review our Submission Guidelines below before submitting your work.
---